Top-Mount Chimney Dampers
If you use a fireplace, you're probably familiar with the damper, commonly called a "throat damper." Chimney Dampers are plated devices that sit above the firebox and open and close as needed.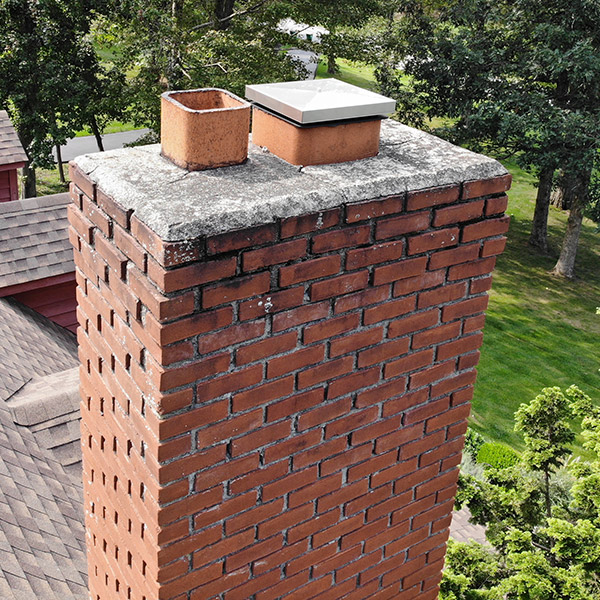 What you may not know is that there's another style of damper that sits at the top of the chimney. It does the same job as a throat damper. But top-mount chimney dampers also perform other jobs that throat dampers can't.
Chimney Sweep Inc. of Lakeside, CA, would like to tell you a little about top-mount chimney dampers and what they can do for your chimney.
The Function of a Damper
Fire needs air to burn and to draft. A fully open damper allows air to be pulled into the active firebox and send smoke and gases up and out of the chimney.
When the fireplace isn't in use, a closed damper does several things:
Prevents conditioned home air from exchanging with unconditioned outside air
Keeps animals that may have gotten into your chimney out of your house
Reduces the presence of chimney odors in the home
A Top-Mount Damper Does More
Top-mount dampers also open to allow fires to burn efficiently and close to prevent air exchange. As to animals, these devices not only keep them out of your home, they also keep them out of the chimney in the first place.
There's one more thing top dampers do that throat dampers can't: they shield your chimney flue from damaging rainwater.
Operated from inside the home with a handle and chain, a top-sealing damper can prevent many types of damage and problems throughout a chimney system caused by incoming water:
Masonry deterioration
Carbon monoxide and flames escaping a water-damaged liner
Rusting of metal parts within the chimney and fireplace system
Mold growth that can spread to other parts of the house
A final benefit of a top-mount damper is that it helps keep cold air out of the flue. When outside temperatures drop and flue air becomes cold, it can cause warmer smoke to move more slowly through the chimney.
The Value of a Chimney Inspection
If you've been using your chimney without a chimney cap, flue cover or top-sealing damper, now is a good time to let us find out if any damage has been caused. If we uncover a problem, our technicians are qualified and equipped to perform all repair work. We can also install any type of protective chimney top you prefer.
Chimney Repair in Southern California
When it's time for a professional chimney inspection, Chimney Sweep Inc. is here to help.
Chimney Sweep Inc. is your local chimney expert in Lakeside CA, Oceanside CA, and the greater San Diego CA, area. We serve Coronado CA, Escondido CA, La Mesa CA, and San Clemente CA, along with North Park CA, Alpine CA, Solana Beach CA, and other communities throughout East San Diego County.
Speak with a chimney and fireplace expert today at (619) 593-4020 or request an appointment online.